Treasury Management Solution for
Miners
Elevate Your Financial Efficiency with Robust Treasury Management. Keep control of your assets.
Designed by
Miners

for

Miners

!

SALT's Treasury Management Solution provides a secure way to allocate assets for operational expenses while securely holding onto your Bitcoin in institutional-grade storage.

We cater to everyone, from entrepreneurs to corporate entities, and are proud to be the go-to solution for Bitcoin miners as well, providing a service uniquely designed to streamline treasury management.




Challenges
Effective Treasury Management Can Be Complex
But we help you overcome crucial hurdles, including:
Access to sufficient operating capital
Improved governance over treasury management
Shield assets from market volatility
Unlock the power of your treasury to cover operational expenses and fund your next growth stage, while mitigating potential tax impacts.
Benefits
Secure Your Financial Goals Without Liquidating Your Crypto
SALT's Treasury Management Tool allows you to leverage existing crypto assets as collateral for a loan or line of credit. Key advantages include:
Efficient management of taxable events*
Access to capital
Preserve liquidity and reduce liquidation risks
Automate your loan management, treat it like a line of credit
HODL more crypto to possibly gain considerable value during a bull market using our tools.
*Speak with your tax advisor to understand your potential tax situation.
Smart Utilization of Your Crypto

Preserve Your Wealth

In uncertain market conditions, we convert your portfolio to USDC to protect its value.

Sleep Well at Night

Our stabilization feature helps manage your loan during a market crash, allowing re-entry at an opportune moment.
Grow Your Holdings

Convert your portfolio back to its original crypto mix when the market is down to increase your total holdings.
With our new partnership with Luxor, save on pool fees and stack Sats in your SALT Bitcoin wallet.
Solution
Leverage Your Crypto Assets for Operational Flexibility
SALT Lending gives you access to capital based on your crypto holdings.

We lend out stablecoin against crypto deposits, enabling the funds needed to operate and expand your business. We provide technologies to manage and protect your crypto assets in any market condition.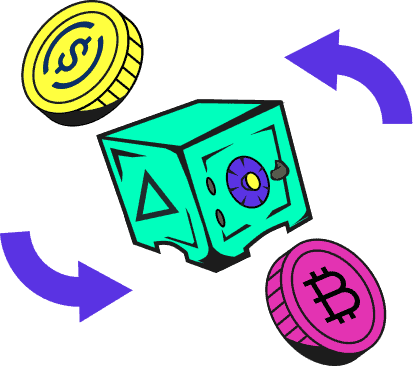 How it works

Access Liquidity in 4 Steps

Step 1:

Set up a SALT Account


Create a SALT account and complete identity verification

Step 2:

Customize Your Loan


Select your borrowing preferences and submit your loan application

Step 3:

Transfer Your Collateral


Send assets to your SALT collateral wallet

Step 4:

Leverage Loan Funds


Once approved, receive stablecoin directly to your account

Key Features

How Does Stabilization Work?

When the market starts crashing and your Loan-to-Value ratio (LTV) reaches 90.91%, we convert your entire crypto portfolio to USDC to preserve its value.* Once you reduce your LTV to 83.33% or below by making a payment or depositing additional collateral, you'll have the opportunity to re-enter the market.

Competitor's Method

SALT's Method

*Subject to market availability. Transaction fees apply.

Stabilization Feature

In case of a market downturn, we convert your entire crypto portfolio to USDC to protect its value.*

Stack More Sats Through Luxor Pool

Our partnership with Luxor allows you to save on pool fees and stack Sats in your SALT bitcoin wallet.
Fireblocks Partnership

Partnering with Fireblocks, a reliable custody management platform, provides enhanced security for our customers.
Insurance

Similar to Fireblocks, SALT maintains Cyber Insurance for the safety of your crypto assets.
Custody Agnostic Approach

We distribute risk, enhance security, reduce interest rates, fund loans swiftly, and expand our wealth preservation products.
Reliable Access to Assets

Our custody process and partners like Fireblocks ensure multi-user authorization for asset accessibility.
Our expertise

We Know Miners

At SALT, we understand the intricacies of treasury management.
Quick Loan Approval

With no need for credit checks, we can fund your loan within 24-48 hours.
Preserve Your Crypto

There's no need to sell your crypto to fund operations or make strategic investments.
Prioritize Efficiency

Use our tools to enhance your profitability.
Promote Growth

Our solutions can help you expand your operations and maintain financial health.
Always Available

Manage your loan outside of regular banking hours, and stabilize your LTV at any time.
Flexibility
We offer flexible loan terms and support a range of cryptocurrencies for multi-collateral loans.
What Our Customers Are Saying
I've been a miner and SALT customer for several years. As a lifetime HODL'er, their products really help for accessing capital without selling your Bitcoin.

The new treasury management solution they have for Bitcoin miners is great for miners to maximize their Bitcoin retention especially in the current crypto winter while still being able to invest cash into expanding operations. I expect lots of miners, including myself, to get onboard with the program!
Blue Hills Co
SALT's Treasury Management Tool is the ultimate solution for anyone seeking to optimize their financial operations.

Whether you're an entrepreneur kickstarting your venture, a corporate entity seeking to enhance efficiencies, or a miner wanting to streamline operations, we've got you covered.
Get started today