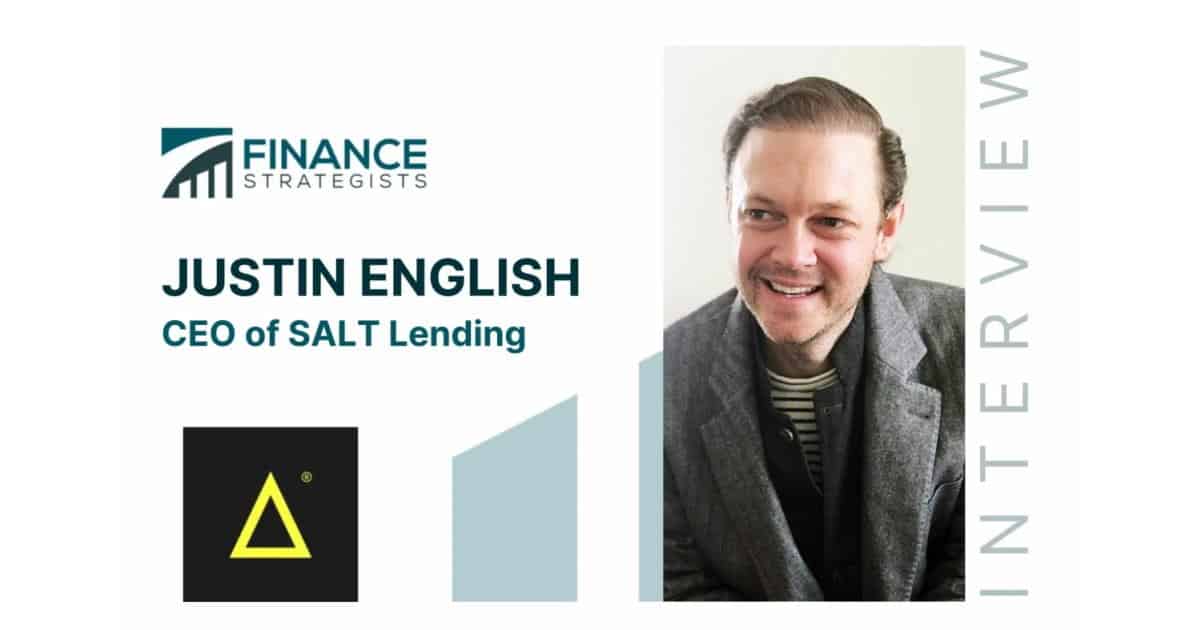 Finance Strategists: Interview with CEO of SALT Justin English
Published:
March 24, 2022
Introduction
Success leaves clues.
Finance Strategists sat down with Justin English, CEO of SALT Lending. He shared his thoughts on the past, present, and future of the company, as well as the insight he has gained from running the business.
Who is Justin English?
Q. Who are you and what's your background?
I'm Justin English. I joined SALT as CEO in May 2020. Prior to my role as CEO, I was first and foremost an early customer and investor in SALT and began consulting for the company and serving on its board in fall of 2019.
Before joining SALT and entering the crypto space, I spent more than 15 years across the private equity, early stage venture capital, consumer products, supply chain, manufacturing, distribution, and consumer services industries.
An entrepreneur at heart, I've been personally invested with capital and have spent my career understanding business drivers to influence implementation in the real world, which has aided me in my ability to serve as an advisor to early-stage organizations as well as those that are growing and scaling.
Q. Who has been your biggest influence, and why did they have such a significant effect on you?
My college economics professor had a significant impact on my ability to think critically and bring insight into a discussion. Before each class, we were all expected to read The Economist and be prepared to discuss that week's issue of the magazine. Our entire grade was based on these discussions and the insights we produced throughout them.
The exercise taught me to pay close attention to the nuances of the story or issue being discussed and formulate intelligent, thought-provoking questions as a result. I learned to identify the most common assumptions on which people would base the discussion and then question and poke holes in those assumptions. I've leaned on this tactic throughout my career and still use it today, as it always makes people stop and think, resulting in a more insightful discussion overall.
Q. Knowing what you know now, what advice would you have given your younger self?
I was extremely stubborn when I was younger and set on learning in my own way, through my own failures. If I could give one piece of advice to my younger self, it would be to use my resources and learn from the achievements and failures of those who came before me rather than repeat their mistakes and failures purely out of stubbornness.
Business
Q. What is SALT Lending?
SALT is a fintech company with a focus on crypto assets. Our mission is to build products that increase access to financial opportunities and give people more control over their ability to generate long-term wealth.
The first to offer crypto-backed lending, we accept crypto assets as collateral for cash loans, enabling crypto holders to get value out of their assets without having to sell or rely on the traditional banking system.
Aside from our lending product, we are excited about the upcoming launch of the SALT Card — a crypto-backed credit card that will allow customers to borrow against their crypto assets and use their crypto for everyday purchases without having to spend any of it, all while earning crypto rewards with every purchase.
Q. What makes SALT Lending different from its competitors?
SALT is different from our competitors in three key areas: the combined experience within our team enables us to continuously improve operational processes and make space for innovation; our management team and our ability to build and invest in value-creating technology (SALT Stabilization, StackWise, our Loan Management System, trading execution platform); and the fact that we're leaning into transparency and compliance and have been a publicly reporting company since early 2021.
From a customer perspective, we often stand out for our customer service, as SALT customers love knowing that at any point, they can speak to a real person who can walk them through any issues they're experiencing or answer any questions they may have.
Q. What led you to join SALT Lending?
Having started as an early investor and SALT customer back in 2017, I was among the first to ever hold a crypto-backed loan and explore SALT's platform. I experienced the benefits and pain points of the product first-hand and later joined the Board of Directors, which enabled me to provide feedback on the technology and product offerings and offer guidance on what improvements could be made.
I continued to be a customer throughout my engagement with SALT and took on the role of CEO in 2020 with the intent to improve our lending product and expand our product suite to provide greater value for our customers.
Since becoming CEO at SALT, my goal has been to create products that incentivize people to develop strong financial habits that will enable them to build generational wealth– the SALT Card is the first manifestation of this goal, as we seek to take the traditional concept of credit and disrupt it.
With this product and future products, we want to change the way people think about debt and credit and empower them to move from building up "bad debt" to generating wealth simply by developing better habits and getting more value out of the assets they already own.
Q. What has the experience of building the business taught you?
While I've learned a lot from building the business at SALT, some of the greatest things the journey has taught me are leadership and softer skills, which I've come to realize are way more important than I've previously given them credit for.
Aside from that, I've learned the importance of pragmatism when it comes to making business decisions. I've seen so many peers fall into the trap of becoming too emotionally invested in something to the extent that the sunk cost bias clouds their judgment and creates a tunnel vision mindset.
I've always been a pragmatic person, but my experience as an entrepreneur and my current role as CEO at SALT have helped hone my ability to compartmentalize and look at things from different angles. I make a conscious effort to take a step back and look at problems from a really plain, simplistic view.
For me sunk cost equates to learning, not failure. In leading a business I've learned that when it comes to problem-solving and decision-making, you have to invest time and energy and take note of the process and the journey as you go along.
With this mindset, I'm able to emotionally detach from the investment itself and look at it not as a sunk cost, but as a necessary process that has enabled me to make more informed, objective, and sound decisions.
Q. Where do you see things headed for you and the company in the next five years?
As crypto becomes more widely adopted and emerging businesses continue to challenge the traditional financial system, we want to help consumers achieve financial freedom by shifting the way they think about credit and wealth.
The traditional system does not set consumers up for financial success. In fact, it does the opposite, as it is structured in such a way that encourages the accumulation of "bad debt" and borrowing against future income to enable living outside of one's means.
Once consumers fall into this trap, it's extremely hard for them to get out of it and it becomes cyclical. We want to fundamentally change the way people think about their finances by educating them and building products like the SALT Card that incentivize good habits like saving and building generational wealth.
Note: This article was originally published on Finance Strategists.